Play more. Get more!
When we first started Gambola, our mission was simple: to give you more cashback for your hard-earned buck than any other casino out there.  
That's why we put our heads together to come up with a unique cashback system that gives you unlimited money back on every slot and live casino game – win or lose, and 100% free of any wagering requirements. 
Some call it the best casino bonus on earth. We call it Gambola Plus!  
How it works
Every time you make a real money wager on a slot or live casino game, we will return a percentage of that wager to you, regardless of the outcome of your bet. It does not matter if you win or lose. You will always receive cashback. 
There is no limit to how much cashback you can receive, meaning the more you play – the more you get. In effect, this system guarantees you more when you win, while at the same time minimizing your losses. 
The best part? It's 100% free of any wagering requirements. Play for it, withdraw it, or sit back and watch as the money pile grows – it's up to you! For info on how our games contribute, scroll down to the "Game contribution"-section at the bottom of this page. 
RTP (Return to Player) – An average percentage of the total wagers returned to players over time. 
Base Cashback
With Gambola Plus, you will always receive cashback on your wagers – win or lose. This ensures that you get more playtime for your money in the long run.  
So, how big is the base cashback? It varies depending on what game you play. The slot Bonanza, for example, has a base cashback rate of 0.6%, meaning that you will always receive 0.6% of your wager in return, even on winning bets. A slot like Starburst, however, will offer a slightly higher base cashback rate of 0.8%. 
We at Gambola think that transparency is important. We've therefore made it easy for you to browse our different games on this page and see the exact amount of cashback they offer. What you see is what you get! 
Cashback Boosters
While Gambola Plus always gives you cashback on your wagers, there is a way to significantly increase the amount of cashback you receive with our Booster system. 
A Booster is exactly what the name suggests. Activate it, and the Booster will increase the amount of cashback you receive on every wager for a certain amount of time. Boosters come in three different levels: 2x, 3x, and 4x.  
Using our previous examples to see how this feature works in practice, the slot Bonanza offers a base cashback rate of 0.6%, and with a 2x Booster added, this cashback rate is increased to 1.2%.  
Apply a 2x Booster to Starburst, and the cashback rate is increased from 0.8% to 1.6%. Played with a 4x Booster, and the cashback rate is upped to 3.2% - that's four times the amount of base cashback on every wager!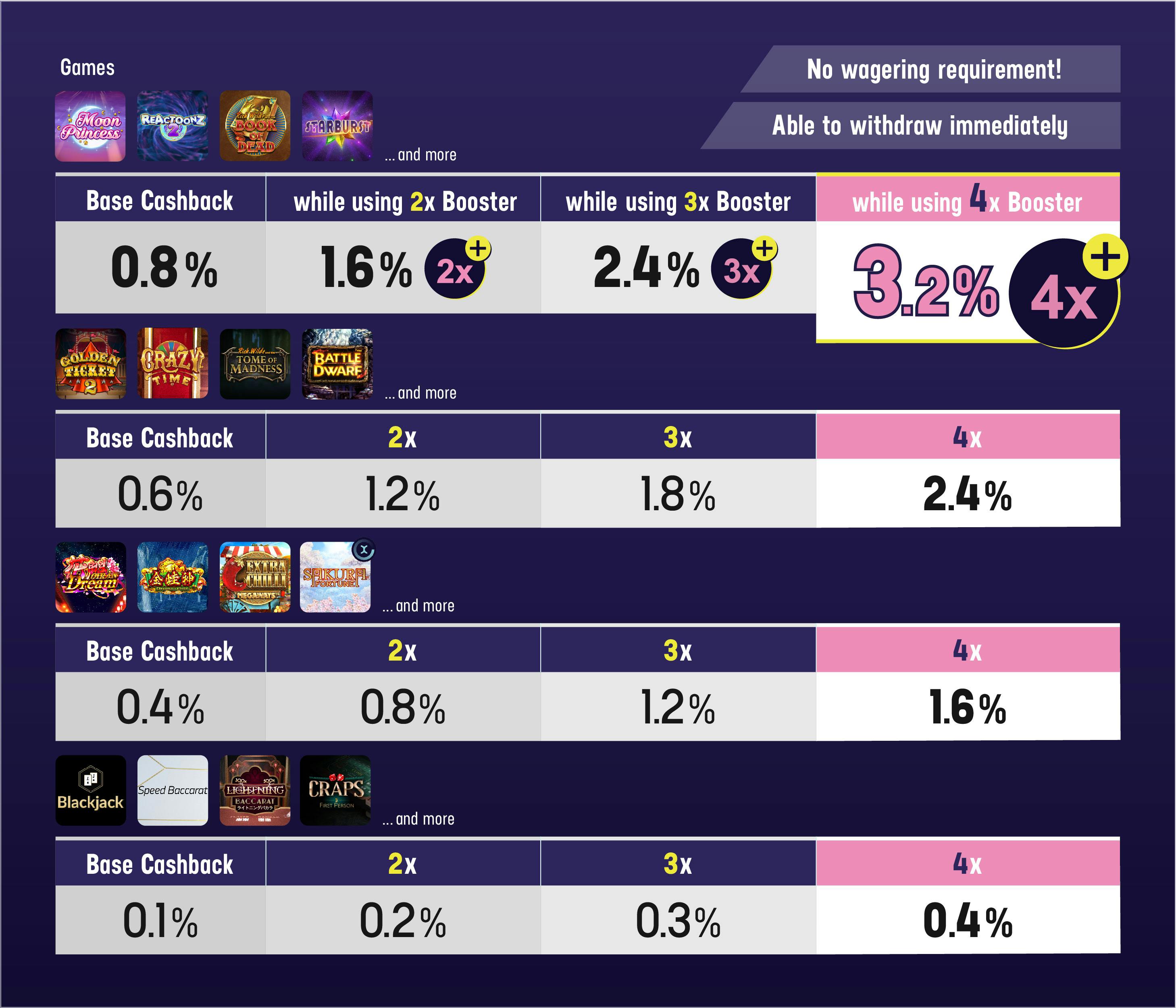 How do I collect my Gambola Plus?
To claim your accumulated Gambola Plus balance, click the Collect-button visible when logged in on this page. Your cashback will now be added instantly to your real money balance. 
Game contribution
Most games will contribute the same amount of cashback. For a detailed overview, you will find all our games and the amount they contribute below. To search for a specific game, type in the search bar.  
Cashback with boost
Game

Cashback Base

2x
3x
4x
No available games in this category